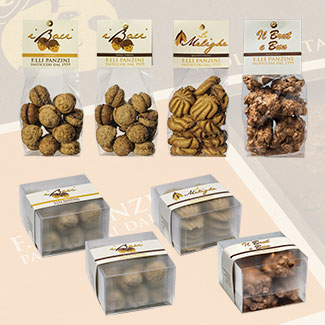 Brutti e Buoni (ugly but tasty)
The"brut ma bun" is a traditional Piedmontese biscuit with its unmistakable irregular shape, that was invented in 1878. This dessert was the favourite of the poet Giousuè Carducci, the composer Giuseppe Verdi and Queen Elena of Savoy. Brothers Panzini give their best with this crunchy and tasty biscuit that smells of hazelnuts.
Baci di dama (lady's kisses)
The Lady's Kisses are a typical product of Tortona, Langhe and Monferrato and they were legendarily born from the imagination and the brilliance of the cook of the Court of Savoy who found himself to meet the request of the King Vittorio Emanuele II who wanted to taste a new and particular dessert.
Two tasty butter cookies that come together, just like in a warm kiss tasting of dark chocolate: that's what Lady's kisses are! Brothers's Panzini reproduce the royal recipe in a new variant: the Lady's kisses without flour.
Paste di meliga (maize biscuits)
The maize biscuits are a typical Piemontese cookie.
Born out of necessity in a past when the wheat harvest was scarce and very expensive, the maize biscuits, made of corn and wheat flour mixed, are now a "slow food" product of high excellence.
Today, brothers' Panzini modify an old, homemade and farming recipe adding to the corn flour the finest hazelnut one: a classic biscuit with a new intense flavour.
Code: B01 – 150g Baci bag (hazelnut biscuit) without flour, carton of 12 packets
Code: B02 – 150g Baci bag (hazelnut biscuit), carton of 12 packets
Code: M01 – 150g Melighe bag (corn biscuit), carton of 12 packets
Code: BRU01 – 150gr brutti e buoni biscuit, carton of 12 packets
Code: B01CUBO – 200g Baci bag (hazelnut biscuit) without flour, carton of 12 packets
Code: B02CUBO – 200g Baci bag (hazelnut biscuit), carton of 12 packets
Code: M01CUBO – 190g Melighe bag (corn biscuit), carton of 12 packets
Code: BRU01CUBO – 150gr brutti e buoni biscuit, carton of 12 packets